Ypres – Vlamertinge – (Belgique)
Terrain localisé au Sud-Ouest de la ville de Ypres entre les communes de Vlamertinge et de Dikkebus, à 7km Est Sud est de Poperinghe sur des plaines au lourd passé historique.    50° 50′ 20″ N 02° 49′ 20″ E
On y retrouve quelques centaines de mètres de  Rollstrasse (taxiway) avec deux hangars et un abri semi enterré. D'autres constructions ou emplacements sont encore visibles au Nord de ce terrain sur la commune de Vlamertinge et feront l'objet d'une nouvelle visite exploration.
Il s'agit d'un terrain utilisé par la Luftwaffe mais nous n'avons pas retrouvé l'identification de ces unités. Des Me 110 ?
Voie d'accés aux hangars, aire d'envol sur le côté droit.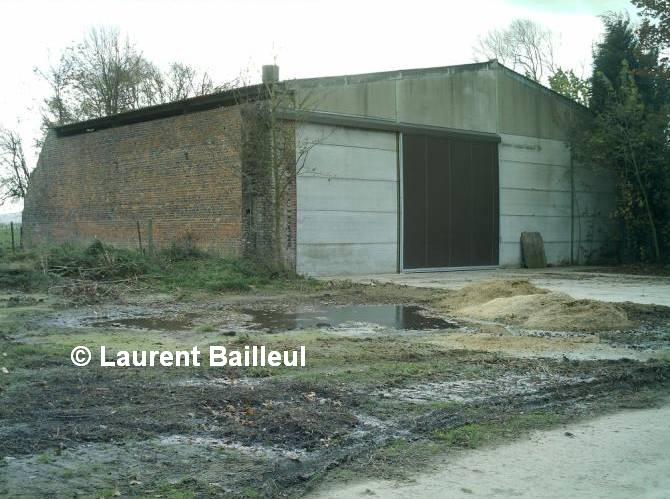 Hangar récupéré par un fermier.
Abri semi enterré avec deux entrées
Hangar avion probablement pour Me 110. Pas de forme en T avec décrochement sur l'arrière.
*
Informations transmises par Thierry Cardon d'aprés le livre de Peter Celis  »Runways to Victory – Belgians airfields and allied tactical fighter opérations – 1944/ 1945  » :
< Le premier appareil ayant utilisé la plateforme existante fut un Fieseler Storch le 24 juillet 1940. Les allemands commencèrent ensuite les construction de ce qui allait devenir un important terrain de la Luftwaffe dés le 27 août 1940. Prés de 130ha furent aménagés avec nivelage et drainage des sols. En mai 1942, une zone herbeuse de 1000m de long fut aménagé pour les chasseurs avec des Rolstrasse à la périphérie desservant prés de 38 abris pour avions. Une piste d'envol de 700m fut ensuite coulée durant l'été 1943.
Selon la résistance Belge, le terrain sera encore utilisé au début de 1944  malgrès plusieurs bombardements alliés pour être ensuite abandonné, après destruction de plusieurs hangars et bâtiments de servitude dans les premiers jours de septembre au moment de la Libération.
Le 15 septembre 1944 le terrain fut occupé par le 5017 Airfield Construction Squadron de la RAF, sous le nom de code B-59, en vue d'une nouvelle utilisation opérationnelle avec réparation des installations. Toutefois, il ne fut jamais mis en service et sera abandonné le 24 décembre 1944. Le site fut alors rendu accessible aux propriétaires qui remirent en culture les terres. Les pistes et installations furent préservées jusqu'en juillet 1947, utilisées par le Ypres Salient Wings Aeroclub.
Ensuite le terrain fut définitivement abandonné.