| Pays | France |
| --- | --- |
| Département | Pas de Calais |
| Nom | DESVRES |
| Autre appellation | N/A |
| Commune (s) | DESVRES |
| Coordonnées | 50° 39' 34" N / 1° 51' 37" E |
| OACI | N/A |
| Situation | 18 km à l'Est de BOULOGNE SUR MER au Sud-Est de la commune de DESVRES |
| Utilisation | Aérodrome allemand 2eme GM |
Etude de Jonathan Aggar
Ancien aérodrome utilisé par Luftwaffe durant la bataille d'Angleterre en bordure de la D341.
Vue de la plaine d'envol. Cette piste était en herbe, sans aucun bétonnage. Cette plaine fût utilisé par la Luftwaffe à partir de septembre à avril 1941. Surface de 1200m sur 800m, environ 56 hectareS.
Ce terrain était occupé durant la bataille d'Angleterre par les unités de la luftwaffe JG51, JG3 et par le 20° Gruppo du corps expéditionnaire aérien italien (dénommé Corpo Aereo Italiano ou CAI). Les Italiens expédièrent à la fin mars 1941, 22 Fiat G.50 en état de vol, quatre Ca.133 et deux Ca.164 vers Desvres, leur nouveau terrain avancé. La logistique et les ateliers, eux, restent à Maldegem. Mais, le 4 avril 1941, la visite du Feldmarschall Kesselring jette l'émoi à Desvres, non seulement les Italiens ne recevront pas les Bf 109 F attendus mais ils doivent en outre rentrer immédiatement au pays car leur 20° Gruppo va être expédié dans les Balkans.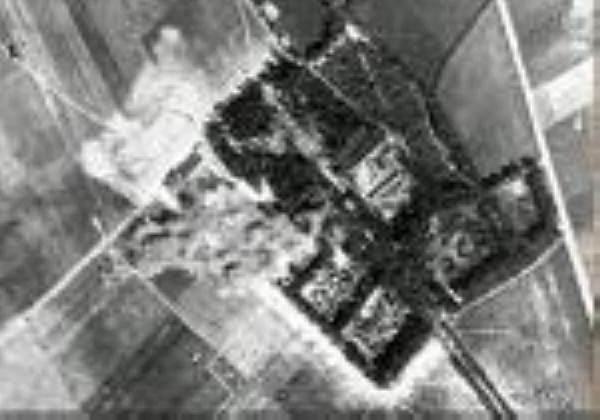 A1 ©                                   
A2 © Google Earth
A1 : Photographie montrant l'éclatement des bombes sur les nouveaux hangars construits sur le terrain d'aviation à Desvres, lors d'une attaque par 6 Bristol Blenheim Mark IVs No.110 Squadron de la RAF, (  »Circus » opération).Elle s'intitule  »Bombing of the Desvres Airfield – 21 june 1941″. Trouvé sur Google Hearth Hacks.com
A2 : La seconde photo à droite est une prise de vue satellite de nos jours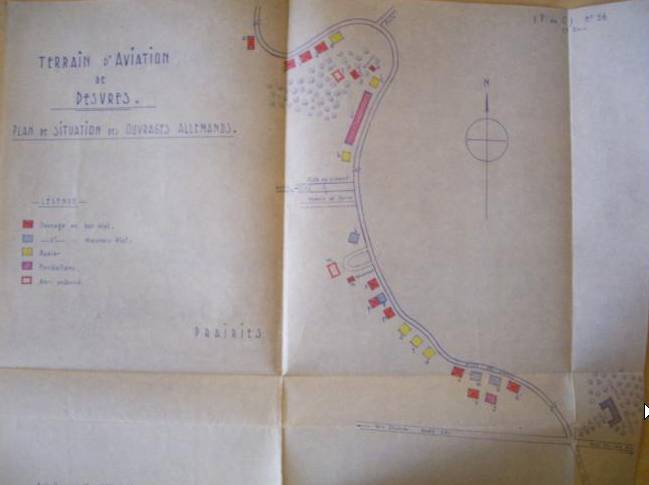 Plan du site (Archives du Génie – SHD, 6 V 107 78)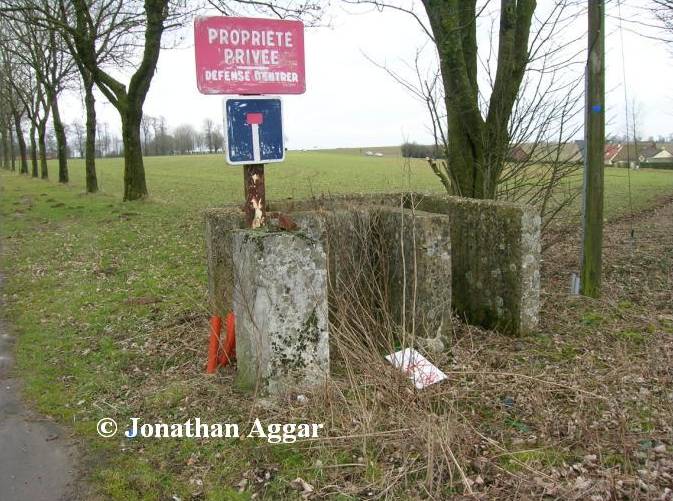 Entrée du site, poste de garde.
Abri semi enterré
Croquis d'un abri (Archives du Génie 6 V 107 78)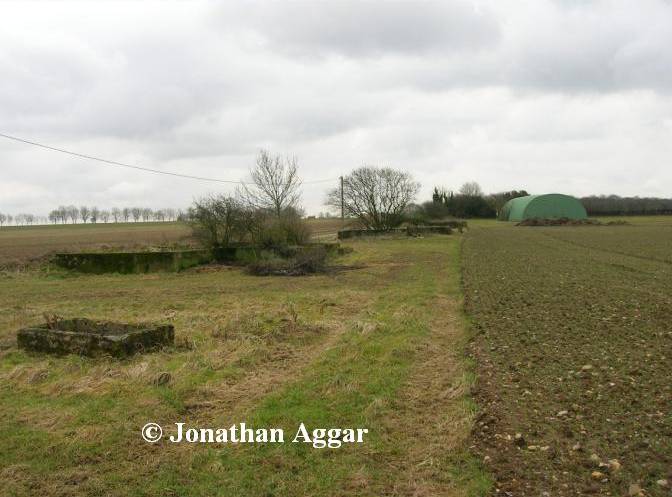 Alignement des abris pour les Bf 109
Partie arrière
–oOo–
Etude Volker Pelz en 2010
Anciens hangars avions restaurés par le propriétaire (Coll Volker Pelz)
Murs protecteurs pour un hangar (Coll Volker Pelz)
Murs de protection pour un hangar plus petit (Coll Volker Pelz)
–oOo–
Unités présentes :
III./JG 3 (au 1er janvier 1941)avec  Bf 109 E appartenant à la Luftflotte 2/Jagdfliegerführer 2
Infrastructures :
(Suivant inventaire des Archives du Génie)
9 soubassements pour hangars d'avions
17x 13.70
Piédroits 0.30
Hauteur 1.50
Mention ''Bon''
6 radiers pour hangars d'avions
16×12
Mention ''passable''
2 abris passifs enterrés
5×3, dalle 0.30
2 réservoirs briques avec enduit ciment
5×4
Profondeur 2.40
Mention ''bons''
2 fondations de hangars détruits
2 soubassements pour hangars d'avions
15.90×11.20
Hauteur 1.50
Piédroits 0.30
Mention ''bons''
2 soubassements pour hangars d'avions
15.90×11.20
Hauteur 1.50
Piédroits 0.30
Mention ''mauvais''
2 soubassements pour hangars d'avions
17×13.70
Hauteur 1.50
Piédroits 0.30
Mention ''mauvais''
1 cuve pour mitrailleuses
1 abri pour poste de garde
1 bloc infirmerie 54×14
Mentions ''détruits''
Sources :
La Luftwaffe en France T1 – Jean-Louis Roba
Archives du Génie SHD